My Photo Gallery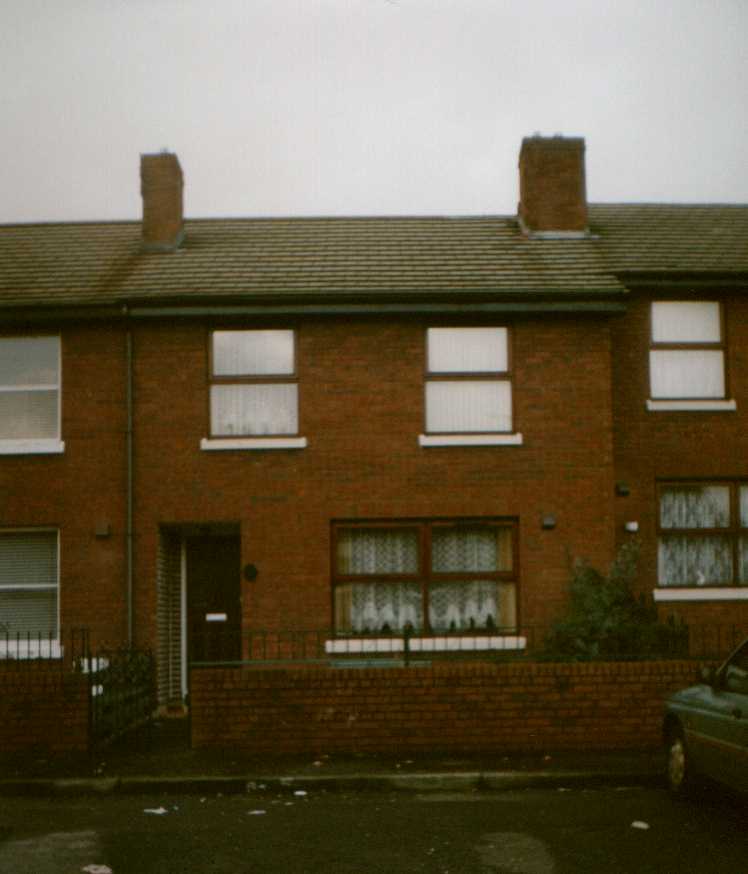 This is my wee house, number 9 Donore Court, where I have lived for the since September 1982 (most of my life in other words). My bedroom is the window on the top right.
---
And this is the New Lodge Road, the main road which my little cul-de-sac runs on to. If you believe in statistics, I was standing about 15 metres from the most dangerous spot in Northern Ireland's troubles when I took this photo. (Said spot is the junction of the New Lodge Road and the Antrim Road). As you can see, despite this, it is a fairly normal and fairly boring public housing estate.
---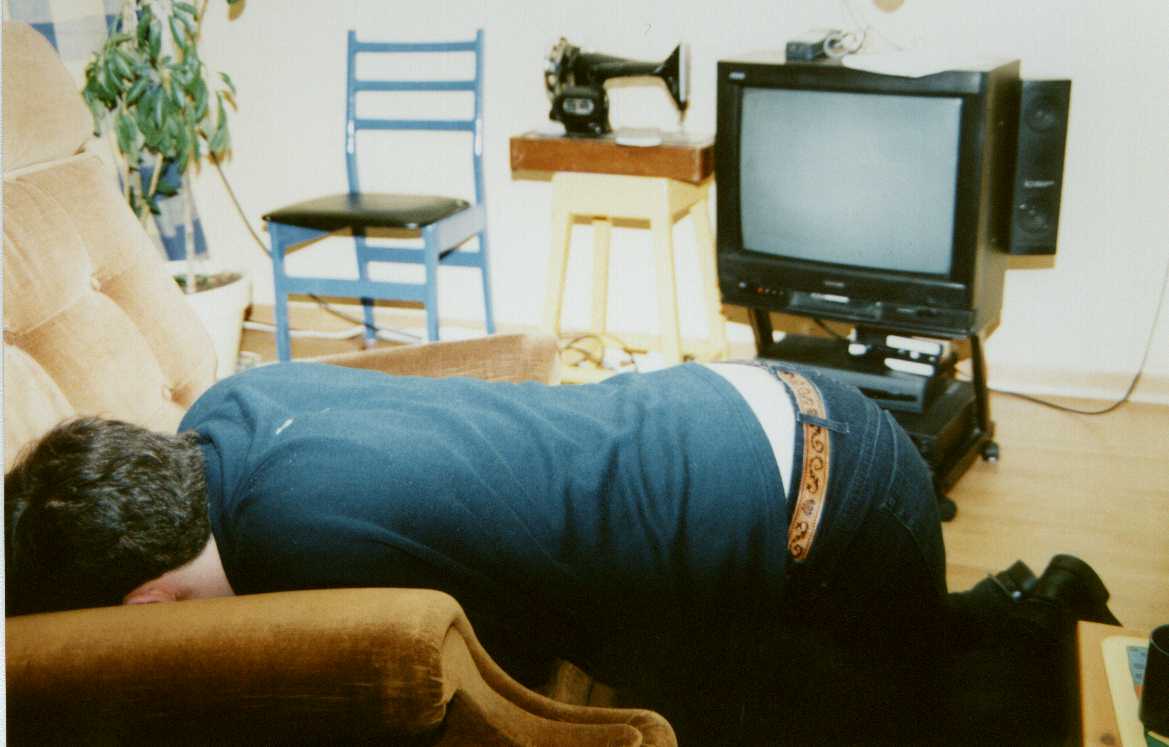 This picture was taken at 4am the morning after Alliance Conference, 1998. In case you had any doubts, I was just a bit plastered that night. Serious bum cleavage or what!
---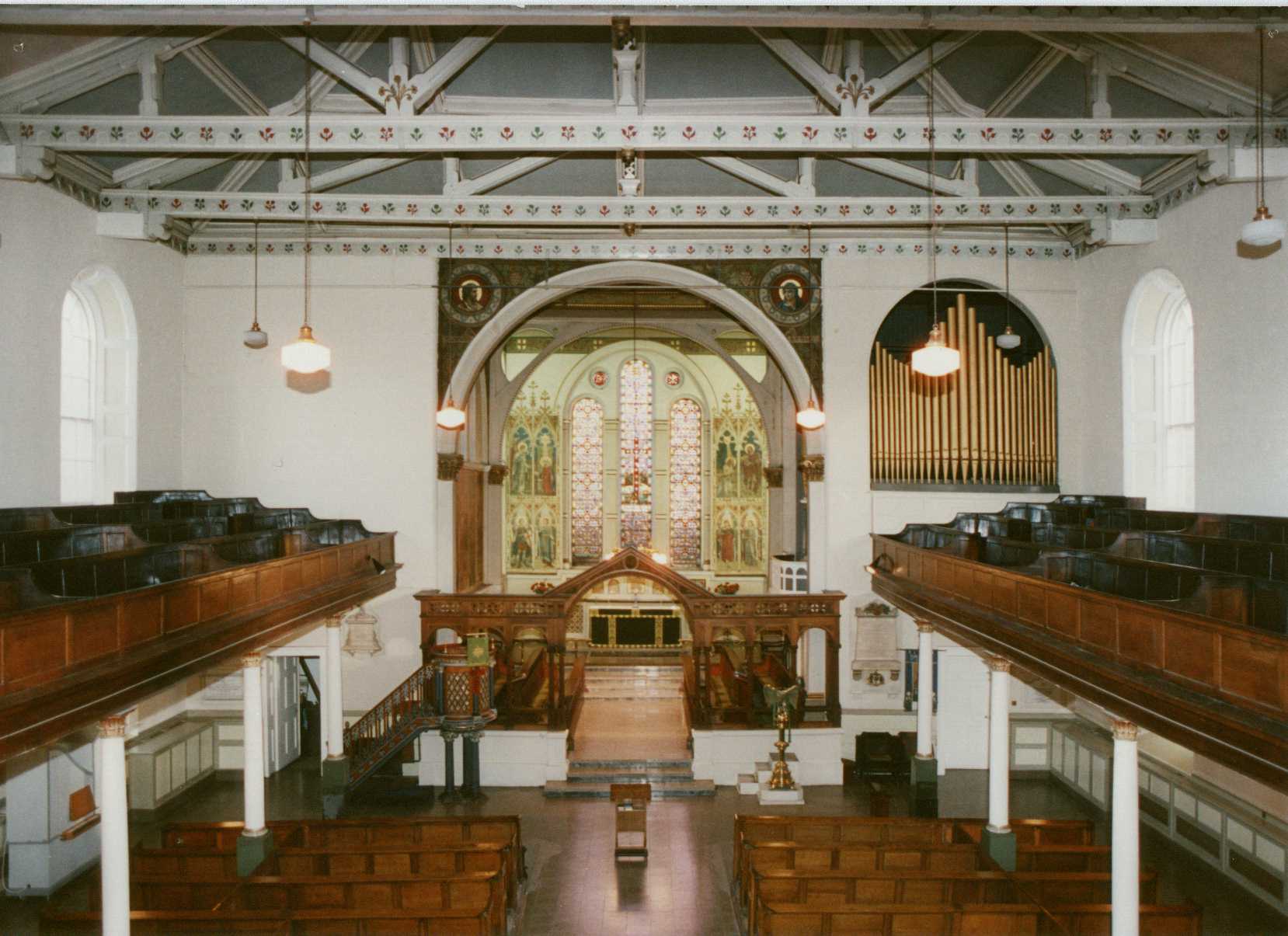 This is Saint George's Church, Belfast City Centre - my spiritual home. I love this church. I sit about two thirds of the way up the north-end pews, right beside the aisle, as a general rule (just left of centre at the bottom of the picture).
---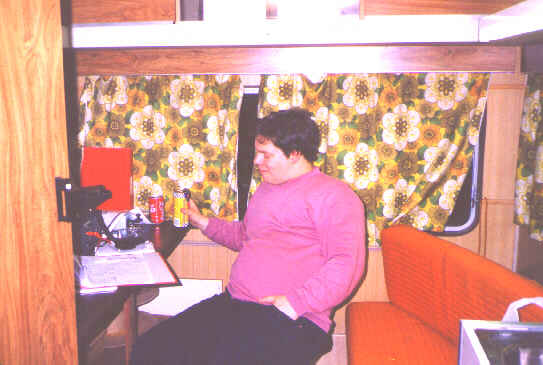 This is me radio contesting during the 2m/70cm contest in March 1999. As you can see the sheer intensity of VHF contests from GI-land was really wiping me out! It turned into a real night to remember as he made hardly any contacts but had a pretty good time. We spent the night in a caravan above Newtownards and boy was it cold. Then we came second in the UK miraculously when the results were published. Just don't ask me how.
---
When my friend Maiike from the Netherlands was in Belfast in May 1999, we climbed Cavehill to show her the best view of Belfast going. This is a picture she took of me (sitting down) and Keith, a friend from Alliance, who has a thoughtful look in his eyes as he gazes out over Belfast. We would have been over 300m above sea level at that point, while Cave Hill's summit is 371 metres. This may not sound a lot, but Belfast is a seaport so it's a fair sized hill.
---
This a picture of Keith, Maaike and myself taken the same night in the Liverpool Bar in Belfast. Not that I go to pubs very often! (AHEM!)

---
This is a picture of me during lunch at Alliance Party Council in Portadown Town Hall in December 1999. I am sitting with my friend Michael Campbell from Ballymena. And for once I was drinking Coke when everyone else was drinking wine.
---
This is probably the saddest photo in my collection. The girl on the right is my sister Maighread, on holiday in America aged 10. She committed suicide, aged 14, on 29 May 1988. Rest eternal grant unto her O Lord, and may perpetual light shine upon her.
---

There are a number of photos I would like to add, particularly from my holiday in Germany and my trip to the USA, both in 1999, but as I have no scanner, getting them online is a bit of a problem sometimes.

Back to my homepage. Page launched 15 March 1999 and most recently updated 11 December 1999.